Although my practice typically focuses on collaborative divorce and mediation, I do recognize that those processes do not work for everyone. Sometimes litigation is the right option for couples and as a financial specialist for divorce, I do provide litigation support to clients. Because of my experience as an attorney and in business valuation as well as my background as a CPA, I have successfully helped numerous clients navigate the financial complexities of divorce. 
What I do as a financial specialist for divorce
Small Business Valuation
When you own a small business independently or jointly, you will need to have a valuation done for a divorce. You will need a certified business valuation expert to complete this process as it can be fairly complex. There are a few different methods for small business valuation, but in general they should all result in a determination of the current fair market value of the business and prospective future earnings.
Typically this process is extensive because it requires thorough analysis of tax returns, financial statements, bookkeeping records, and anything else related to the financial status of the business. It also requires interviews with management or top positions in the company. Once the process is complete, the financial expert will craft a report. Frequently, your financial specialist for divorce will also be deposed or asked to testify in court.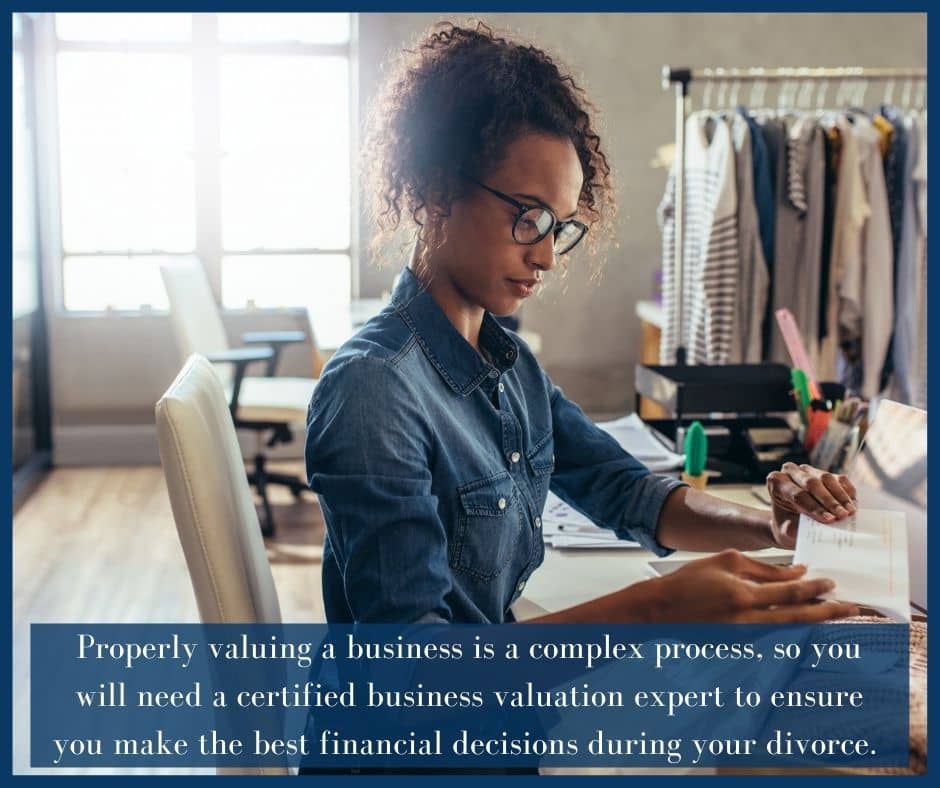 Income Analysis 
For an Illinois divorce, it is essential to understand the income levels of both spouses because it impacts the amount of child support and spousal support. In order to do this accurately, your financial specialist for divorce will have to evaluate tax returns, assets, debt, retirement accounts, bonuses, and any other relevant financial information. The net income for both parties is then used to make financial decisions regarding child and spousal support. 
Lifestyle Analysis
A lifestyle analysis establishes the standard of living for couples and families prior to seeking a divorce. This is an important consideration for couples divorcing in Illinois who make a combined income of over $500,000 per year as it can affect child support and alimony. Attorneys and judges may consider if the amount awarded will allow spouses and children to maintain the marital standard of living they experienced. There are numerous financial documents that are evaluated and they usually include spending records, savings, and investments. Usually, the financial specialist for divorce reviews a few years to get the most accurate picture of the clients and their family's lifestyle. 
Forensic Accounting
Sometimes divorce can bring out the worst in people, especially when it comes to finances because it directly affects the amount of support a person has to pay. You will need a forensic accountant if you believe your spouse has manipulated or hidden assets or earnings. A forensic accountant knows how to evaluate financial records to uncover fraud and find hidden assets  
Tax Consulting Services
There are many tax considerations for divorcing couples, so it is important to understand them and any consequences that may result from financial decisions made during divorce. You may have to consider if your tax returns are going to be filed jointly or separately, what the tax implications are related to asset division and transfer of property, and any other advantages or disadvantages of items in the settlement agreement.
My experience and advocacy will help you protect your assets
With over 20 years of divorce litigation experience and a financial background, I have helped my clients with the legal and financial aspects of their cases.  Protecting your assets is important and I will make sure that your financial future is secure. If you need financial guidance for your pending divorce, contact me today for a consultation. Phone: 312 – 803 – 6965